Command Line
Jenkins X comes with a handy jx command line tool to easily:
Pipelines
Rather than having to have deep knowledge of the internals of Jenkins Pipeline, Jenkins X will default awesome pipelines for your projects that implements fully CI and CD using DevOps best practices
Environments
An environment is a place where applications get deployed. Developers often refer environments using a short name like Testing, Staging/UAT or Production.
With Jenkins X each team gets its own Environments. By default Jenkins X creates a Staging and Production environment for each team but you can create new environments via jx create environment.
We use GitOps to manage the configuration and version of the kubernetes resources which are deployed to each environment. So each Environment has its own git repository that contains all the Helm Charts, their versions and the configuration for the applications be run in the environment.
An Environment maps to a namespace in a Kubernetes cluster. When Pull Requests are merged into the environments git repository the pipeline runs for the environment which then applies the helm charts in git to the environments namespace.
This means both developers and operations can use the same git repository to manage all the configuration and versions of all the applications and resources for an environment in the same git repository and all changes to the environment are captured in git. So its easy to see who made changes when and more importantly its then easy to revert changes which cause bad things to happen.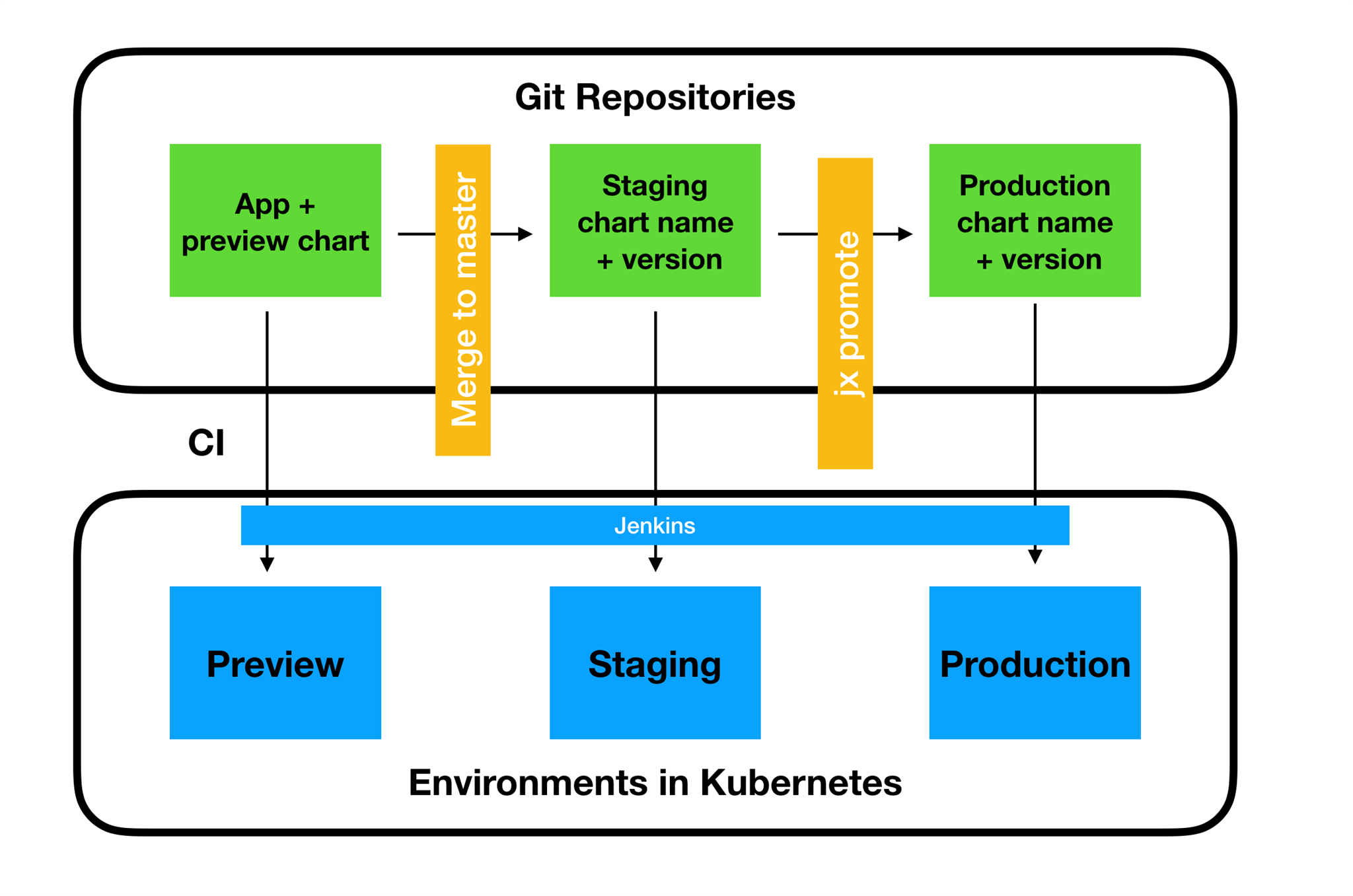 Promotion
Promotion is implemented with GitOps by generating a pull request on the Environment's git repository so that all changes go through git for audit, approval and so that any change is easy to revert.
When a new change to an environments git repository is merged to master, the pipeline for the environment triggers which applies any changes to the resources via helm - using the source code from the git repository.
The CD Pipelines of Jenkins X automate the promotion of version changes through each Environment which is configured with a promotion strategy property of Auto. By default the Staging environment uses automatic promotion and the Production environment uses Manual promotion.
To manually promote a version of an application to an environment you can use jx promote command.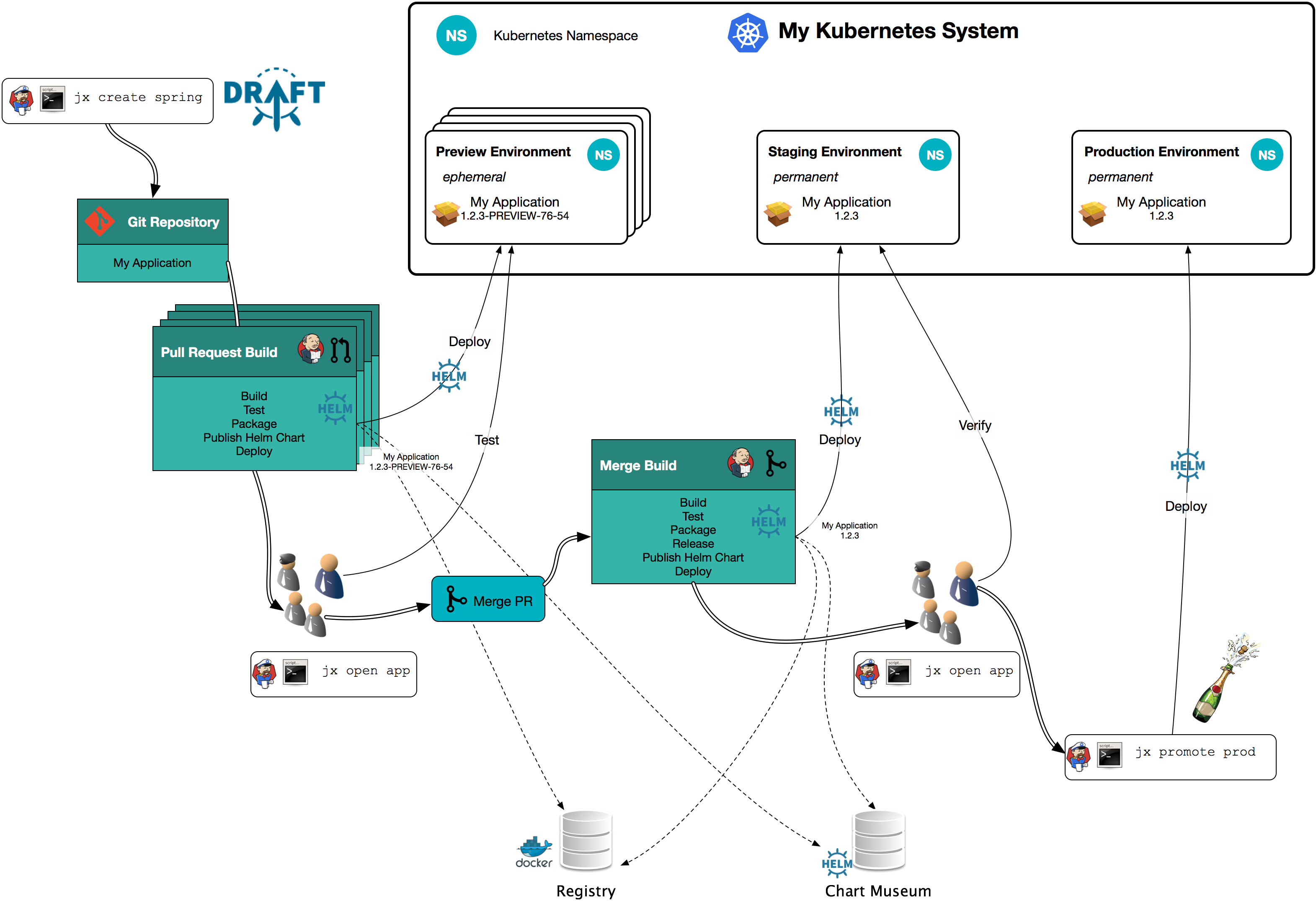 Preview Environments
Jenkins X lets you spin up Preview Environments for your Pull Requests so you can get fast feedback before changes are merged to master. This gives you faster feedback for your changes before they are merged and released and allows you to avoid having human approval inside your release pipeline to speed up delivery of changes merged to master.
When the Preview Environment is up and running Jenkins X will comment on your Pull Request with a link so in one click your team members can try out the preview!

Feedback
As you can see above Jenkins X automatically comments on your Pull Requests when using Preview Environments.
If the commit comments reference issues (e.g. via the text fixes #123) then Jenkins X pipelines will generate release notes like those of the jx releases.
Also as the version with those new commits is promoted to Staging or Production you will get automated comments on each fixed issue that the issue is now available for review in the corresponding environment. e.g.

Applications
A collection of best of breed software tools packaged as helm charts that come pre-integrated with Jenkins X such as: Nexus, Chart Museum, Monocular, Prometheus, Grafana etc
Addons
Some of these applications are baked in; like: Nexus, Chart Museum, Monocular. Others are provided as an Addon.
To install an addon then use the jx create addon command. e.g.
jx create addon grafana

Roadmap
For a look at what features are coming soon please check out the Jenkins X Roadmap